Rick Ridder
President and Co-Founder
rick@rbistrategies.com
Rick Ridder is a former presidential campaign manager and senior consultant for five other presidential campaigns. In the over 25 years with RBI, Rick has consulted for numerous U.S. Congressional, gubernatorial, state and local campaigns. Internationally, he has worked in 20 countries including the successful campaigns of four heads of state. He is a past president of the International Association of Political Consultants and a winner of the "Pollie" Award as International Consultant of the Year. He has written for "Salon.com," "Campaigns and Elections," "Australian Financial Review" and "The Denver Post." Internationally, Rick has been profiled in publications in Denmark, Greece, Portugal, and the UK. He has appeared on all major US networks, the BBC, Australian Broadcasting, and a number of other foreign broadcast networks.
On a personal level, Rick has been recognized with the "Award of Achievement" from the Gleitsman Foundation, "in recognition of commitment and leadership initiating social change." He holds a BA from Middlebury College, an MS in Broadcasting from Boston University, and is an Adjunct Professor at the University of Denver's Korbel School of International Studies.
---

Joannie Braden
Vice-President and Co-Founder
joannie@rbistrategies.com
Joannie Braden has been involved in politics for almost 30 years. Since starting RBI with her husband, she has been integral to every aspect of the firm's development. As managing partner, Joannie has oversight of all RBI operations, clients, projects, and marketing efforts.
Her expertise includes campaign strategy, voter contact, survey research, and budgeting. Joannie enjoys working with both candidates and non-profits, especially women's reproductive health advocates and environmental groups. She has worked closely with clients on ad creation, messaging and media placement. She has been involved in campaigns and campaign training programs in Mexico, the United Kingdom, Australia, Spain, and Sweden.
She is a yoga and fitness enthusiast, a discriminating coffee drinker, and an avid reader. She has a working knowledge of Spanish and holds a B.A. from Bennington College.
---

Faye Diamond
Partner
faye@rbistrategies.com
Faye Diamond advises candidates, membership associations, and non-profit organizations. Her legal, organizational and political skills bring considerable dimension to RBI's strategic consulting and research services.She specializes in campaign management and strategic consulting for candidates and statewide ballot initiatives and has additional expertise in campaign finance and legal compliance for congressional campaigns. Her work with RBI's clients ranges from coalition building and grasstops lobbying to framing message, theme, and content for direct mail.
She began her professional career at the National Women's Political Caucus and went on to work for Governor Dick Lamm, first on his 1982 re-election campaign and then on his legislative staff. Faye has managed two state legislative races and worked on various federal, local and referenda campaigns, including serving as UniServ Director for the Colorado Education Association, as the Deputy Campaign Manager on a U.S. Senate campaign, and as Comptroller and Compliance Officer for the Denver International Airport campaign. She has been active in Democratic Party politics, serving as Finance Director for the House Democratic Majority Fund and as Executive Director for the Colorado Democratic Party. She holds a Juris Doctor from the University of Denver, College of Law and a BA in Psychology from the University of Colorado. Faye currently serves as Secretary of the International Association of Political Consultants.
---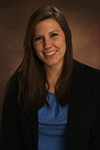 Callie Seymour
Creative Director
callie@rbistrategies.com
With a knack for creativity and precision, Callie spearheads RBI's Direct Mail Department. In particular, she deals with conceptualization, design, production, and targeting for RBI's direct mail clients. She is committed to ensuring that each piece uniquely reflects the candidate or issue. Callie is fluent in Spanish and proficient in Japanese. She has interest and experience in international politics, and recently spent a year in Japan teaching English, where she gained a unique insight into the people, customs, and politics of the world's fastest growing region. Callie holds a B.A. in Spanish from Davidson College in North Carolina.
---
Jessica Campbell-Swanson
Associate
campbellswanson@rbistrategies.com
Jessica brings an international, legal, and environmental background to RBI Strategies and Research. With a Juris Doctor in International Law, and a Master's in Comparative Politics from the University of Denver, she has a keen awareness of the intersection of international, environmental, and political campaigns. Her clients at RBI include state ballot initiatives, environmental campaigns, and international political parties. Previously, she has worked for local environmental groups including Groundwork Denver and the Director of the Environmental Law Clinic at the University of Denver; she also successfully managed Mayor Michael Copeland's 2007 Mayoral Campaign. Internationally, Jessica has worked in Spain and Guatemala, traveled extensively across Europe and Latin America, and has taught English to several Spanish and Latin American executives from Argentina, Columbia, Peru, Mexico, and Brazil.
---
Michael Dabbs
Communications Project Manager
michael@rbistrategies.com
Follow @smdabbs

A connector of people and ideas, Michael brings a passion for public relations and public affairs management to RBI Strategies and Research. He works on many of the firm's accounts, including ballot initiatives, candidates for public office, advocacy groups, and international clients. Particularly, his projects include aspects of messaging, media production, and campaign administration and strategy. He also manages the firm's media accounts and contacts. Previously, Michael has experience working with various nonprofits and public officials, namely Accelerating Market Driven Partnerships (AMP) in Washington, D.C., State Senator Wendy Davis of Texas, and as Communications Director for the Quick for Colorado campaign for CO Attorney General.
Michael holds a M.A. in international and intercultural communication from the Josef Korbel School of International Studies and the School of Media, Film and Journalism Studies at the University of Denver. He graduated summa cum laude with a B.S. in political science and strategic communication from Texas Christian University.
---
Kevin Stay
Assistant Research Director
kstay@rbistrategies.com
Kevin's passion is survey research. At RBI he is involved in every step of the polling process from drafting poll questions to providing both quantitative and qualitative analysis of survey results. Kevin is currently attending the Josef Korbel School of International Studies at the University of Denver for an M.A. in Global Finance, Trade, and Economic Integration with concentrations in public opinion research and public policy. In addition to his work at RBI, Kevin is the inaugural Crossley Scholar for Public Opinion Research at Korbel. He is working with several colleagues to found a brand new center for international survey research at the Korbel School. He is an active member of the American Association for Public Opinion Research including its Pacific chapter. Kevin earned a B.A. in Political Science from Indiana University of Pennsylvania, graduating summa cum laude.
---
Chris Chang
Environmental Issues Associate
chris.chang@rbistrategies.com
Bringing with him a passion for all things environmental, Chris Chang joined the RBI team in July of 2014. Originally brought on to work on the Safe Clean Colorado campaign fighting for responsible oil and gas practices regarding fracking, Chris has worked on many different projects in many different capacities including candidate campaigns, ballot initiatives, and advocacy organizations. After studying abroad in Ecuador, Chris graduated from the University of Denver in the fall of 2014 with B.A.'s in Environmental Science and Socio-Legal Studies and a Minor in Spanish.